BEHIND THE SCENES AT BICKLEIGH CASTLE, DEVON

I was recently commissioned to design
wedding flowers
in Devon at
Bickleigh Castle
. Whether you are designing bridal bouquets, table centre pieces, garlands or wedding arches it's all about the planning and the preparation.  It is important to get the most out of your flowers which means taking care of them and nurturing them from the moment they arrive with you.  They have probably been out of water for quite a few hours so they will need a good drink of water.  All the stems are cut at an angle (which means more surface area) and placed in buckets with fresh clean water out of direct sun and draughts.  It is best to leave the flowers in water overnight before you start making any arrangements.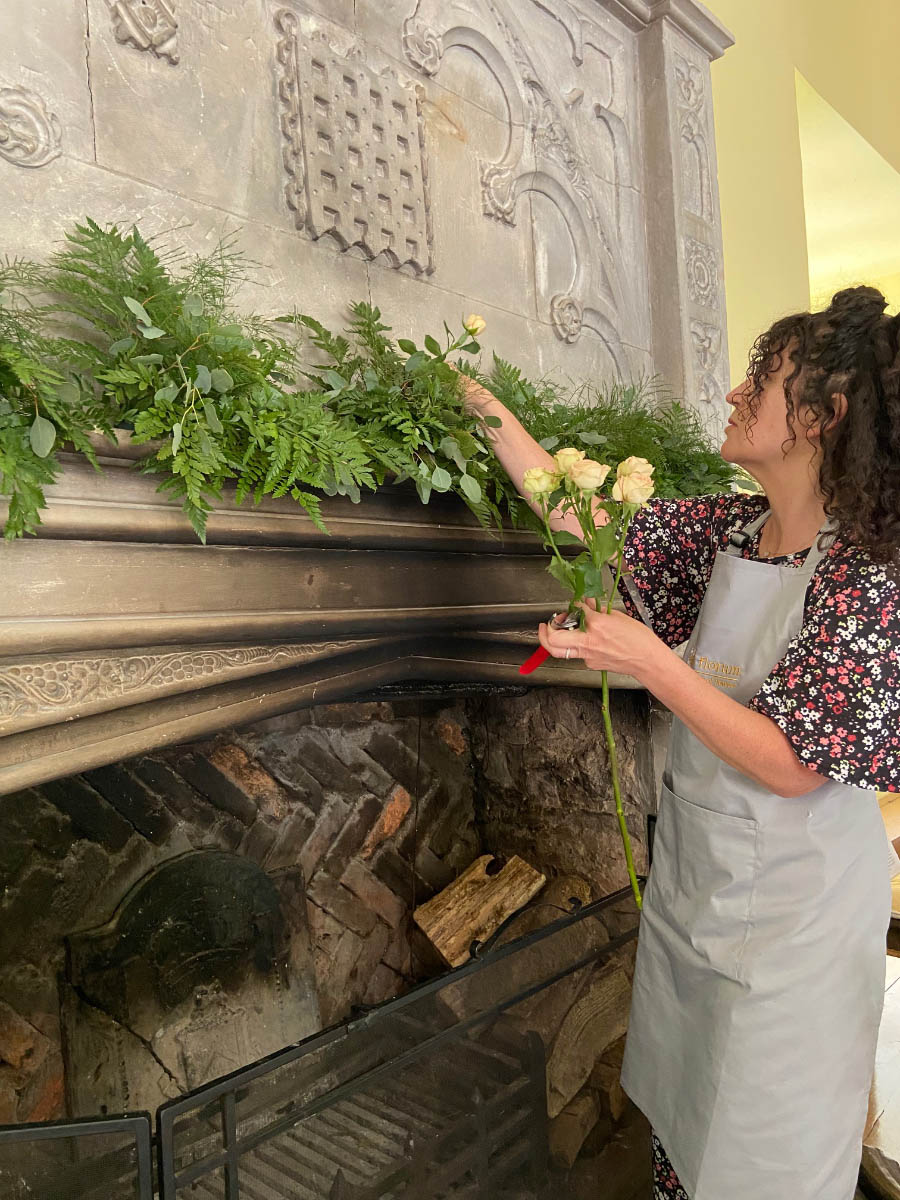 Floristry is not just about making beautiful designs – that's actually the easy bit! As a florist you have to be able to think on your feet and be able to solve problems when they arise and quickly!  Planning any event or wedding can be tricky so the more information you have about the venue the better.  It is always important to visit the venue before the event so you can get a feel for the space and the logistics of creating designs within it.  I always have a tape measure to hand.  For example if I'm making garlands for a mantel piece it is a good idea to measure the depth of the mantel as well as the length as you don't want to spend time making something only to find out it's too wide!   It is also a good idea to visit the venue for a second time closer to the date of the event. 

I was so glad that I did these wedding flowers in Devon at Bickleigh Castle. I visited the venue and met the bride and groom-to-be in February but their wedding was not until August. I was planning on creating a wedding arch or 2 floral pillars to go either side of a very wide arch way however, when I got there I found 2 large hydrangea bushes growing right in front of the arch way. While this was very pretty it really would not have worked with my designs. I decided to make the arch way design the other side of the building. This worked well although it came with other problems, such as a grate that was in way and also because it was a medieval castle the ground was not flat but we got round it and the beautiful floral pillars were eventually installed!

When creating installations outside it is always a good idea to check the weather forecast. I knew it was going to be a very windy and sunny day for this wedding so I needed to prepare for that. All the hydrangeas and roses were placed in re-usable test tubes so that they had a good water source. Some flowers are Ok out of water but hydrangeas are thirsty flowers and would droop very quickly. The moss was saturated with water a couple of times so that the other flowers had adequate water too. The pillars were secured with wire and string to keep them upright in the wind. They held up yay! And we had some amazing comments which was lovely!

Installing the table centre pieces was a bit tricky as they were heavy arrangements that had to be placed on tall gold stands in the middle of round tables.  We always take a ladder with us as you never know when you may need it! The bride and groom-to-be were so delighted with all the arrangements from the mantel piece garlands to the tall table centre pieces. I delivered all the bridal bouquets and buttonholes on the morning of the wedding and the bride was quite overwhelmed with how beautiful they all looked.  It is an amazing feeling when you know that you have worked really hard and have put everything in to make it right and you just hope it reaches their expectations.  I'm only if they are happy!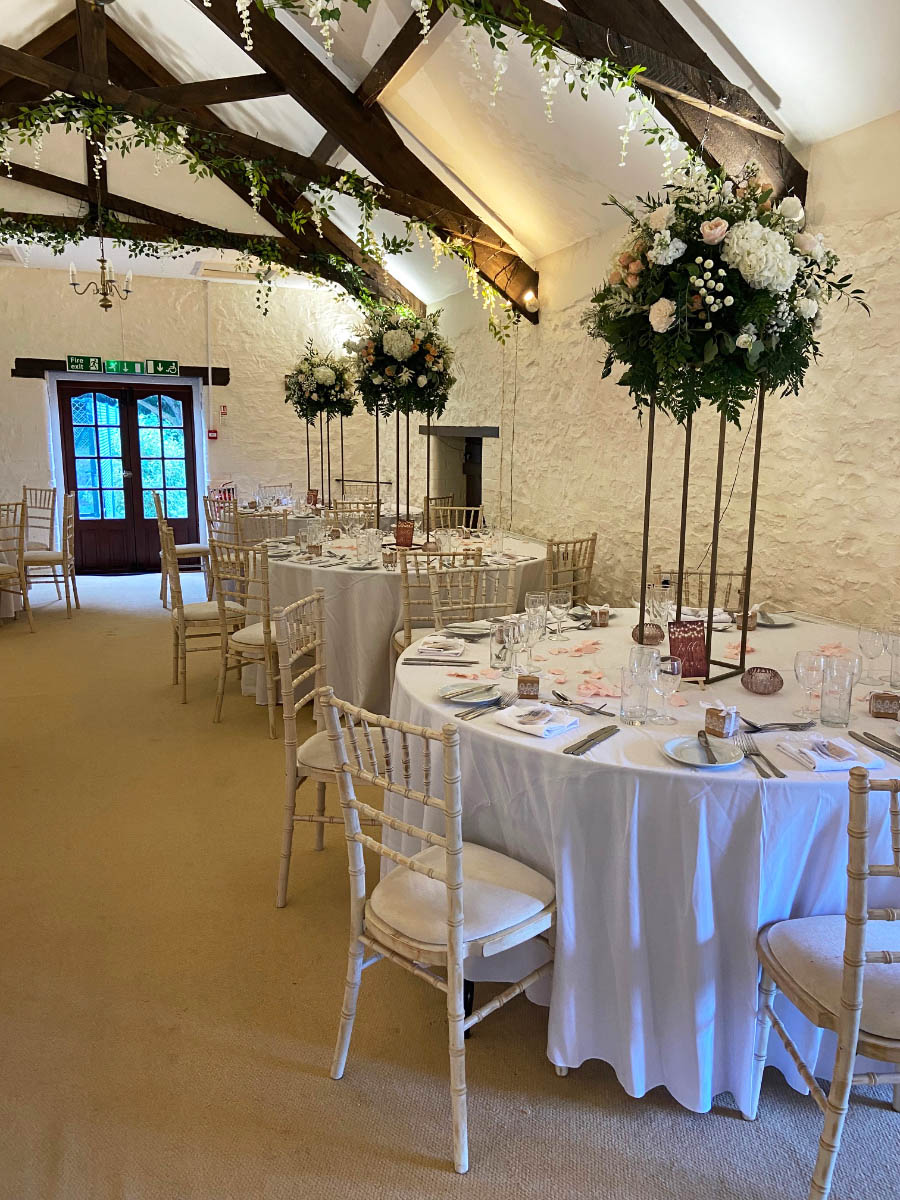 The bride and groom chose Paul Eccles to photograph their special day. His expert eye has captured the beautiful shades and subtle tones of the venue, the wedding outfits and the floral design. Paul's galleries from this wedding are shared here, with his kind permission.