UNVEILING A GOTHIC FAIRYLAND WEDDING VISION IN CORNWALL WITH A SKILLED WEDDING FLORIST

As a reputable wedding florist in Cornwall, the opportunity to collaborate with Charlie and Chris on their distinctive wedding vision was a moment of sheer delight. Their introduction of a captivating concept — a gothic-inspired celebration infused with dark, moody tones and a fairyland vibe — presented an exciting challenge. If you're seeking a wedding florist in Devon or Cornwall to weave magic into your special day, look no further.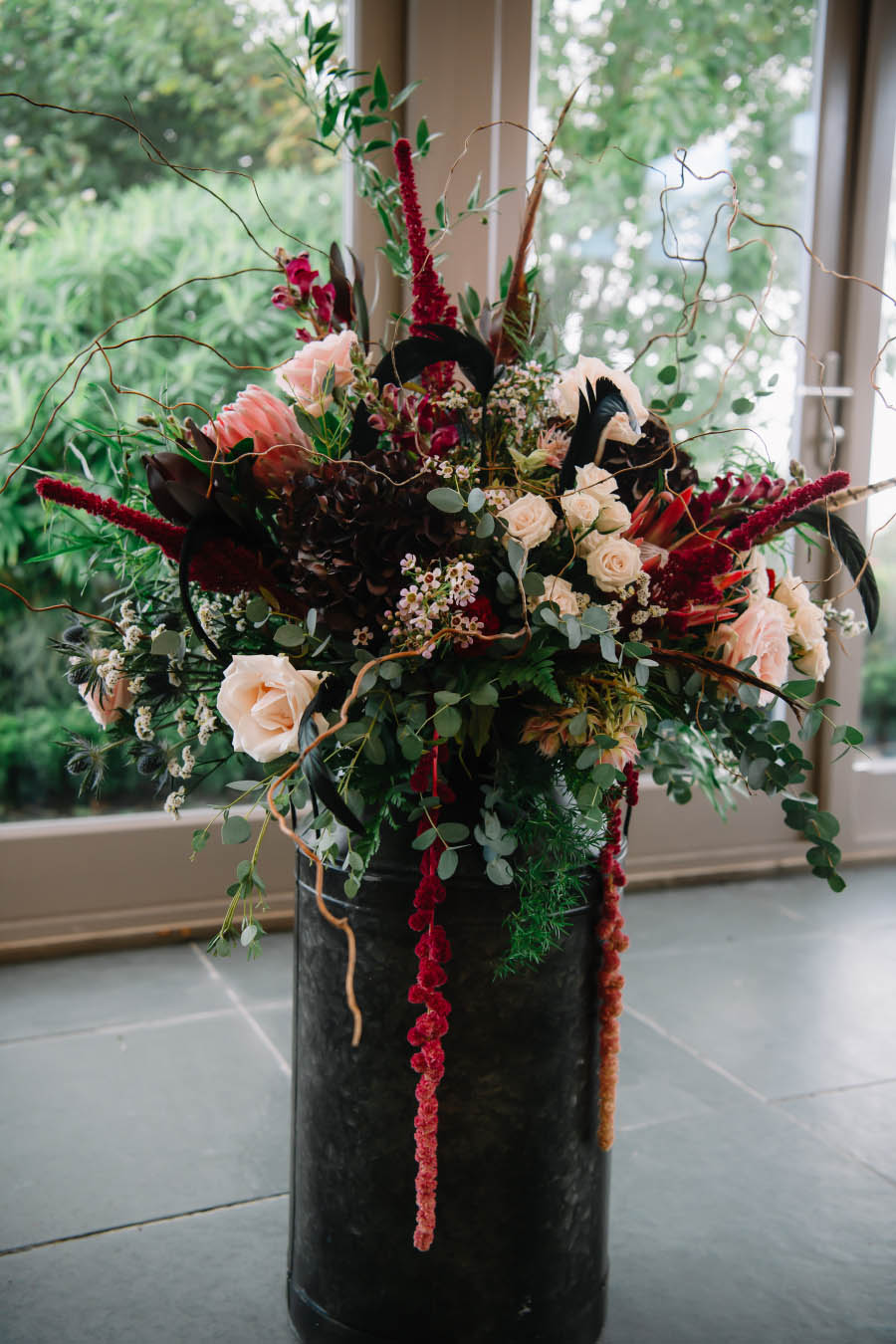 Meticulously Curating a Tapestry of Unique Elements
To breathe life into this extraordinary vision, meticulous selection and arrangement of unique elements were paramount. The venue was adorned with black milk churns, brimming with striking protea, feathers, and lush ferns, making bold and distinctive centrepieces for the ceremony. The staircase underwent a verdant transformation, featuring trailing ivy and ruscus cascading down to a breathtaking pool of roses and hydrangeas, delicately complemented by the soft glow of candles. The suspended hanging ladder, artistically adorned with twisted hazel and rich red amaranths, echoed through the milk churn arrangements and the bride's bouquet, knitting a harmonious and visually captivating theme throughout the wedding.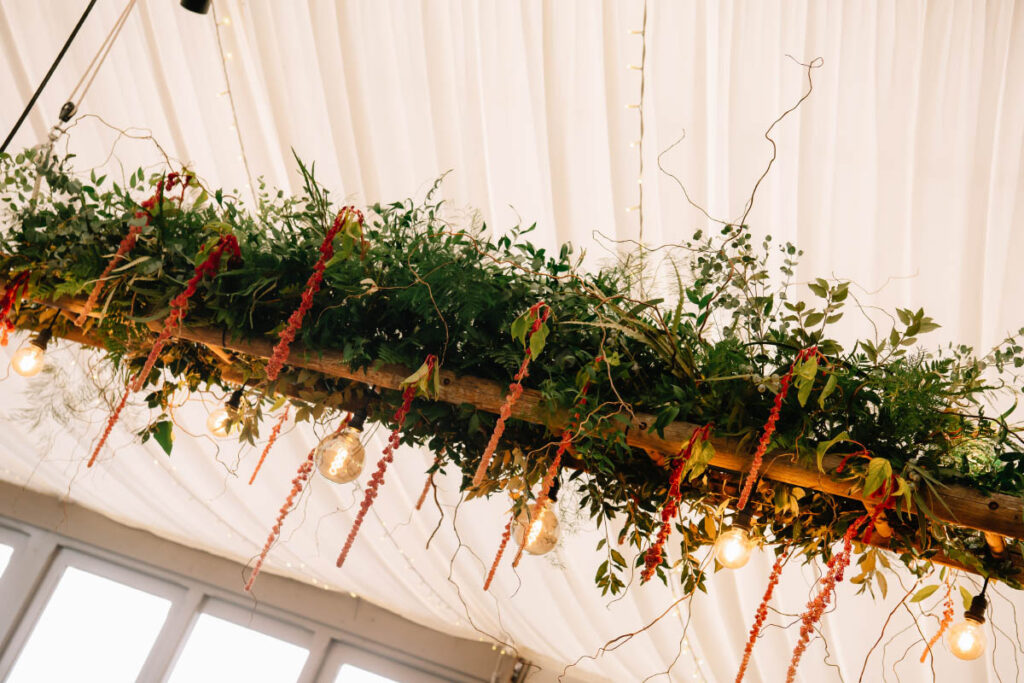 The Captivating Bridal Bouquet: A Masterpiece of Artistry
The bridal bouquet emerged as the centrepiece, designed to evoke awe and admiration. Its luxurious blooms, textured foliage, and feathers intricately woven together, encapsulated the essence of the gothic-fairyland theme, becoming a mesmerizing focal point that added an extra layer of enchantment to the celebration.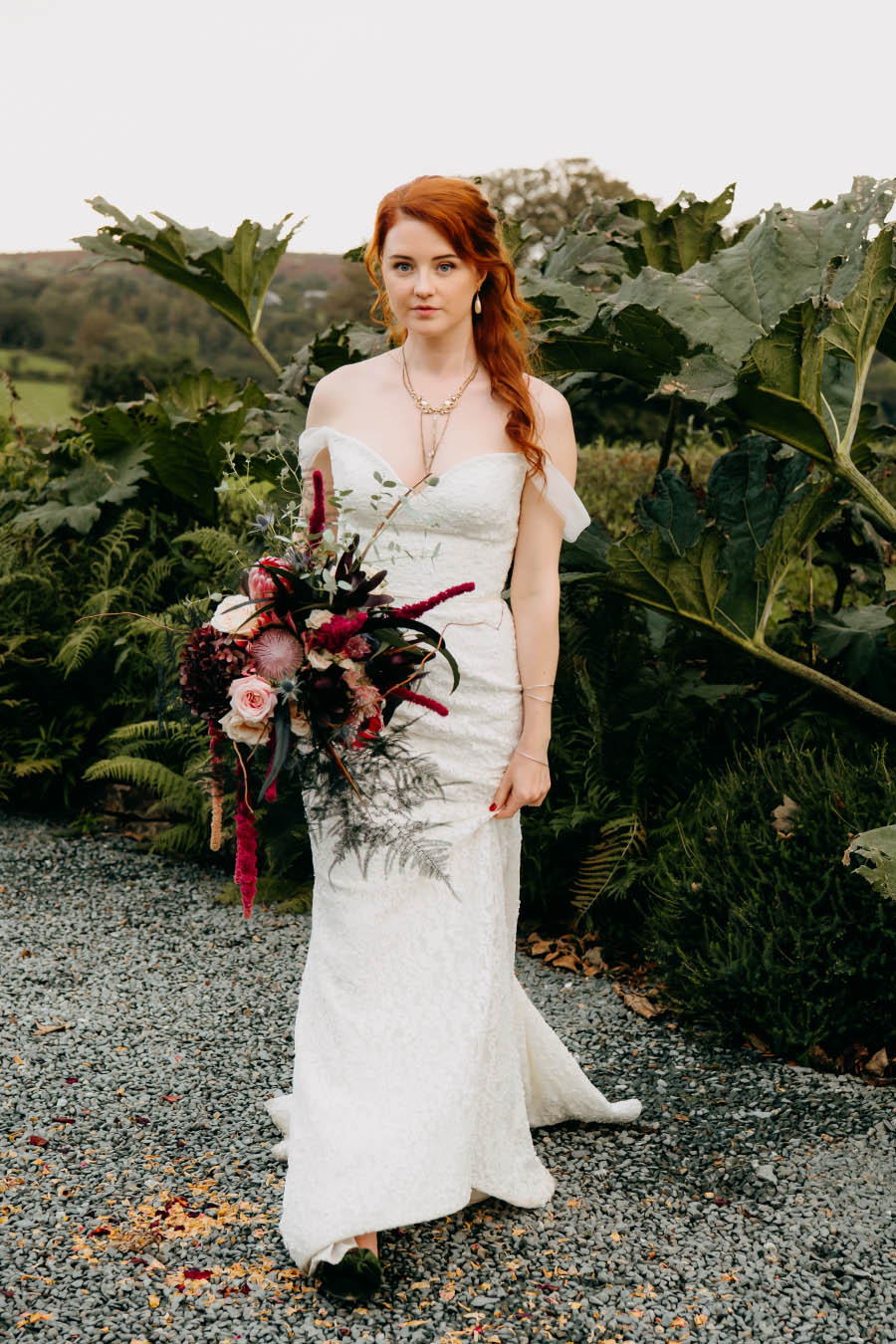 Seamless Consistency and Artistry in Floral Design
While simpler in design, the bridesmaids' bouquets exuded elegance, bursting with textured foliage, feathers, and delicate hints of white limonium. These elements ensured a seamless flow throughout all the floral arrangements, enhancing and unifying the overarching theme of the wedding, creating an unforgettable atmosphere.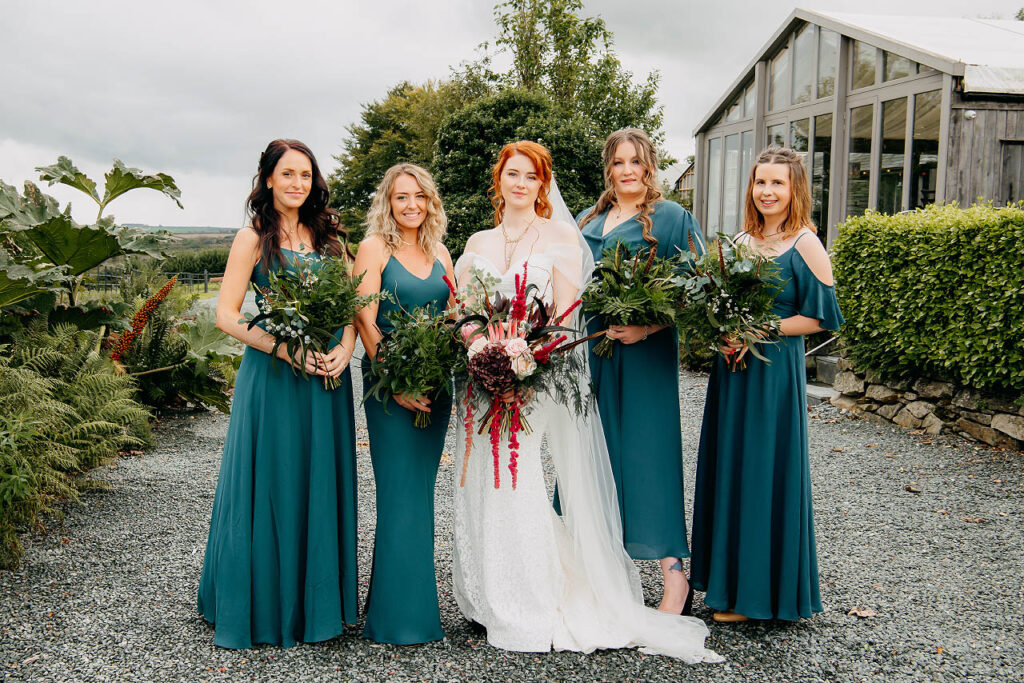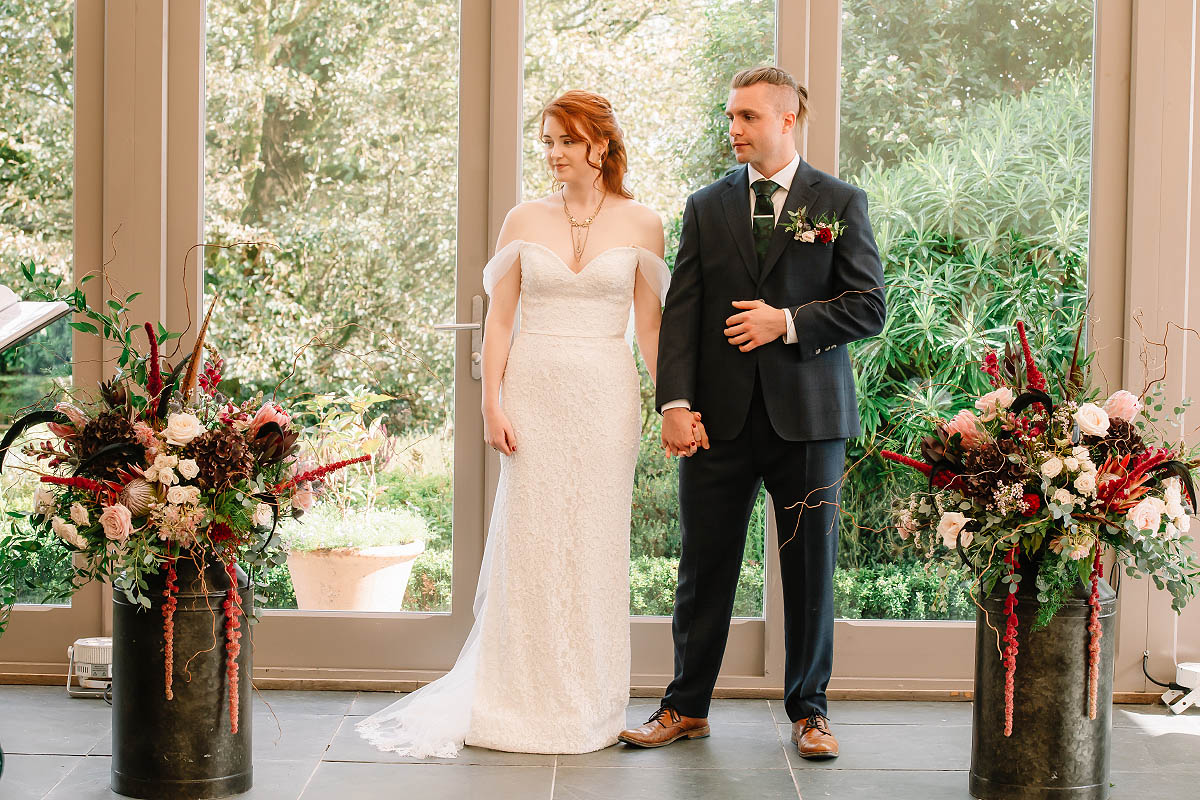 A Dream Realised: Crafting Enchanting Arrangements
Participating in this unique wedding was a dream come true. Each moment spent crafting these enchanting floral narratives was a source of pure joy and creative fulfilment. The freedom to express my passion for floral design through this distinctive and daring theme made the experience deeply cherished and rewarding.

Gratitude and an Open Invitation for Future Collaborations
My heartfelt gratitude extends to Kasha and Alice for their invaluable contributions in bringing this vision to life. For future couples seeking a wedding florist in Devon or Cornwall to breathe life into their wedding flower dreams, I extend an open invitation to reach out. It would be an honor to infuse your special day with floral magic, creating an unforgettable and magical atmosphere that beautifully echoes your unique love story and transforms your celebration into cherished memories that last a lifetime.

Photo Credits
Emma Jane Photography
Location Credits
Floristry Credits
Wedding Attire
Lighting