THE IMPORTANCE OF SUSTAINABLE FLORISTRY

There is something quite magical about being a florist. Sustainable floristry connects with nature and all its beauty. It's now more important than ever to take extra care and time to run a business that's sustainable and protects our natural world as much as possible. 
An important consideration should always be the distance our flowers travel to arrive in the hands of our lovely brides. At Artem Florum we try to buy flowers as locally as possible. We use wholesalers such as Highcroft Nursery in Cargreen, Cornwall and other small local growers around Ashburton and Exeter. Buying locally means we are keeping the flower footprint lower.  Another important factor is using seasonal flowers in our designs.  This can be challenging at times due to our unpredictable weather patterns in the UK, but we try to take advantage of seasonal flowers where we can.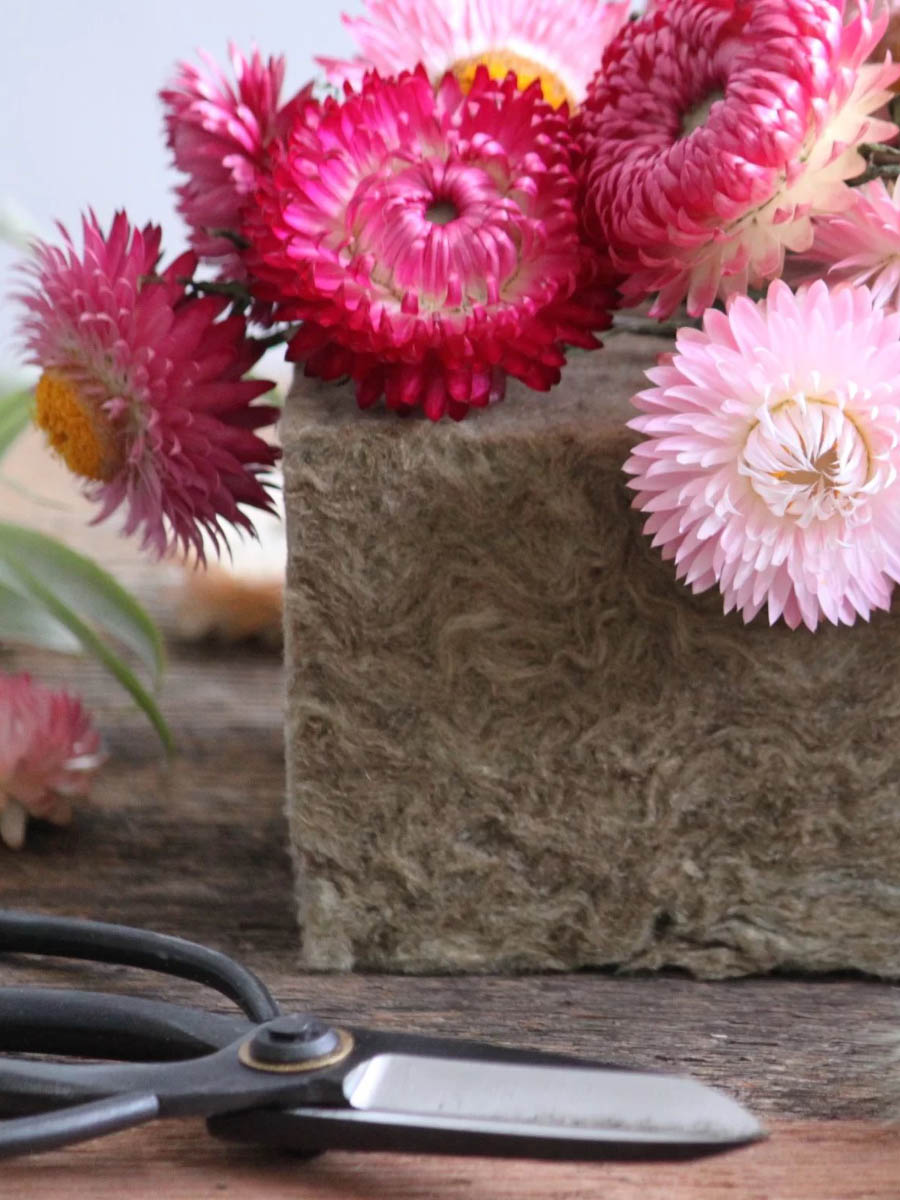 The 'modernisation' of floristry has introduced single use plastics which includes floral foam.  Traditional floral foam is made of carcinogenic materials which further breaks down into micro plastics. These contaminate our water. We need to look at using alternatives.  Sideau is a 100% natural floral foam produced by Agra Wool International.  It is made from basalt and is completely biodegradable. Sideau can also be reused as a potting soil which is great for growing all plants due to its nutritional composition.  It is a more costly alternative to the traditional floral foam, but it is surely a small price to pay for a greener environment.
It would seem that we have come full circle with the mechanics of floral installations.  We are reverting back to 'old school' techniques to create large scale designs.  Instead of using traditional floral foam we are opting for the greener 'moss and chicken wire' mechanics to hold designs together and add a base to attach flowers and foliage to.  This does take more time to construct but again we feel it's worth it.

There are many other things that we can do such as using twine to tie bouquets. Or opting for Eco flower wrap, replacing ribbon with natural raffia and string. Or choosing to use paper stem wrap, avoid using single use plastics.   It really is a case of being more mindful about our techniques and the materials we choose to create our designs.  We believe that by even making small adjustments every day can contribute to help protect our planet and establish a greener, sustainable future.
I would like to share with you one of my eco-friendly mantel piece designs.  The images will illustrate how to create your own lovely floral or foliage decoration. First of all, always prepare and protect your surface so that you do not damage or mark your area where you are going to create your design. You will need 2 to 3 trough containers (depending on the length you want to make and also the size of your container), chicken wire and some pot tape.
Scrunch up the chicken wire and place it in each container.  The height you make it will depend on how high you want the arrangement.  This will offer support for all the flowers and foliage.  Always remember to secure it with pot tape so the chicken wire does not fall out of the container.  Then pour some water in each vessel.  Make sure not to over fill as the foliage and flowers will bring the level up.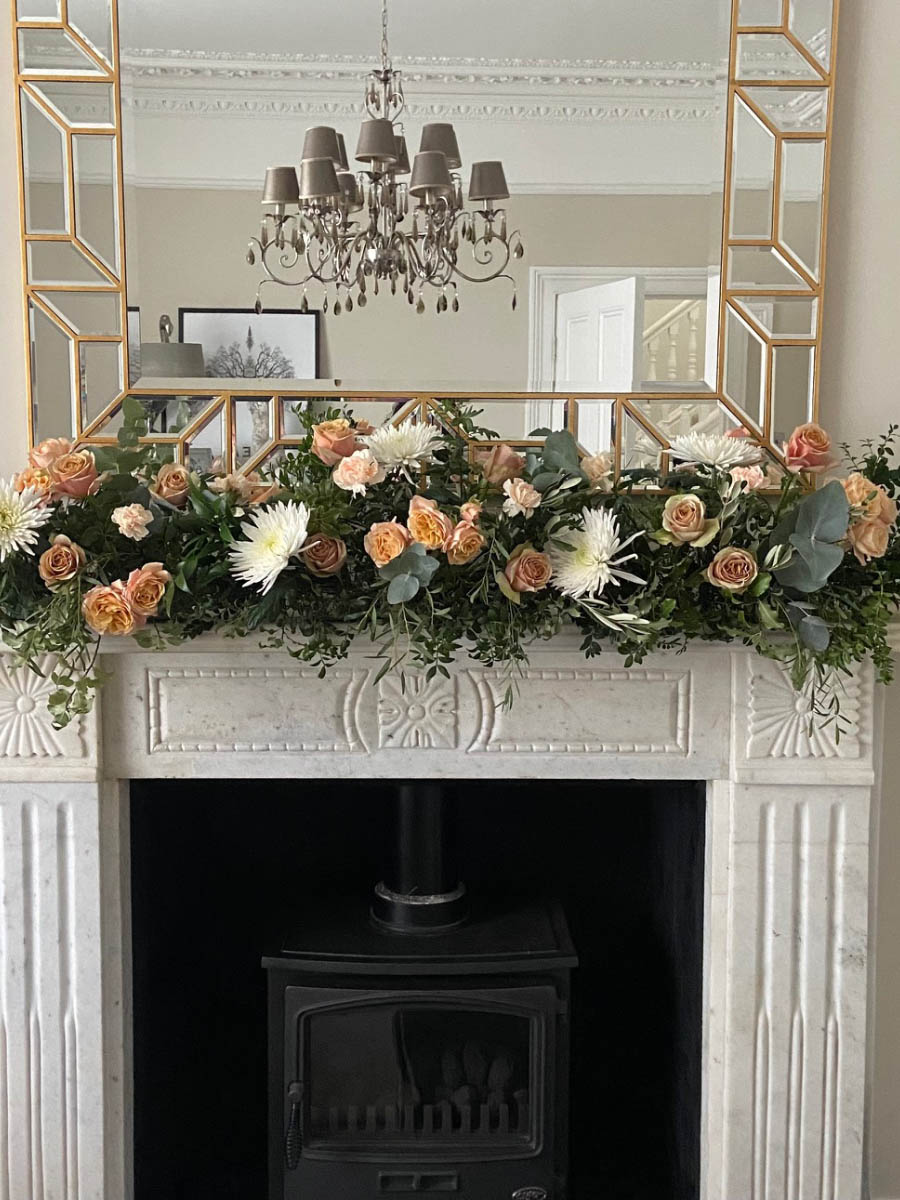 This is where the fun begins!  I like to foliage up first so the flowers have more support.  You can use any foliage from your garden or a shop.  I find buxus, olive, pine, fir, ivy and ivy berries are all long lasting and work perfectly in this kind of design.  Don't worry if the first few stems move about a bit – the more foliage you put in will stabilise the arrangement.
When you have placed the foliage along the length it is time to place the flowers.  If you have a large focal flower, I like to place these first and then build up the layers and filler flowers afterwards. 

When you have finished your design if there are any gaps use any remaining foliage to fill these in.  You can then top up the water in each container.  This arrangement can last a long time if you remember to keep topping up the water.  If the odd flower dies just carefully take it out and replace it will another one.  I do hope you enjoy and have fun creating this lovely sustainable design!