GOLD FLOWERS AT DEER PARK, DEVON

Last week's wedding was held at the stunning Deer Park Country House, which is an 18th Century Georgian Mansion nestled in Devon's beautiful countryside. It is the perfect wedding venue, full of character, quintessential comfort and elegance. Your special day can be tailor made; you decide where you actually have your ceremony, what style of reception you would like, and choose from the limitless wedding flower options. With its 80 acres of glorious grounds, a pretty Italian garden, and outdoor Mediterranean kitchen, as well as a beautifully restored walled kitchen garden, any guest is sure to be wowed. The interiors are just as stunning, with the feel of a boutique retreat. The Orangery makes the perfect room for a wedding reception, with its floor to ceiling palatial arched windows and decadent chandeliers.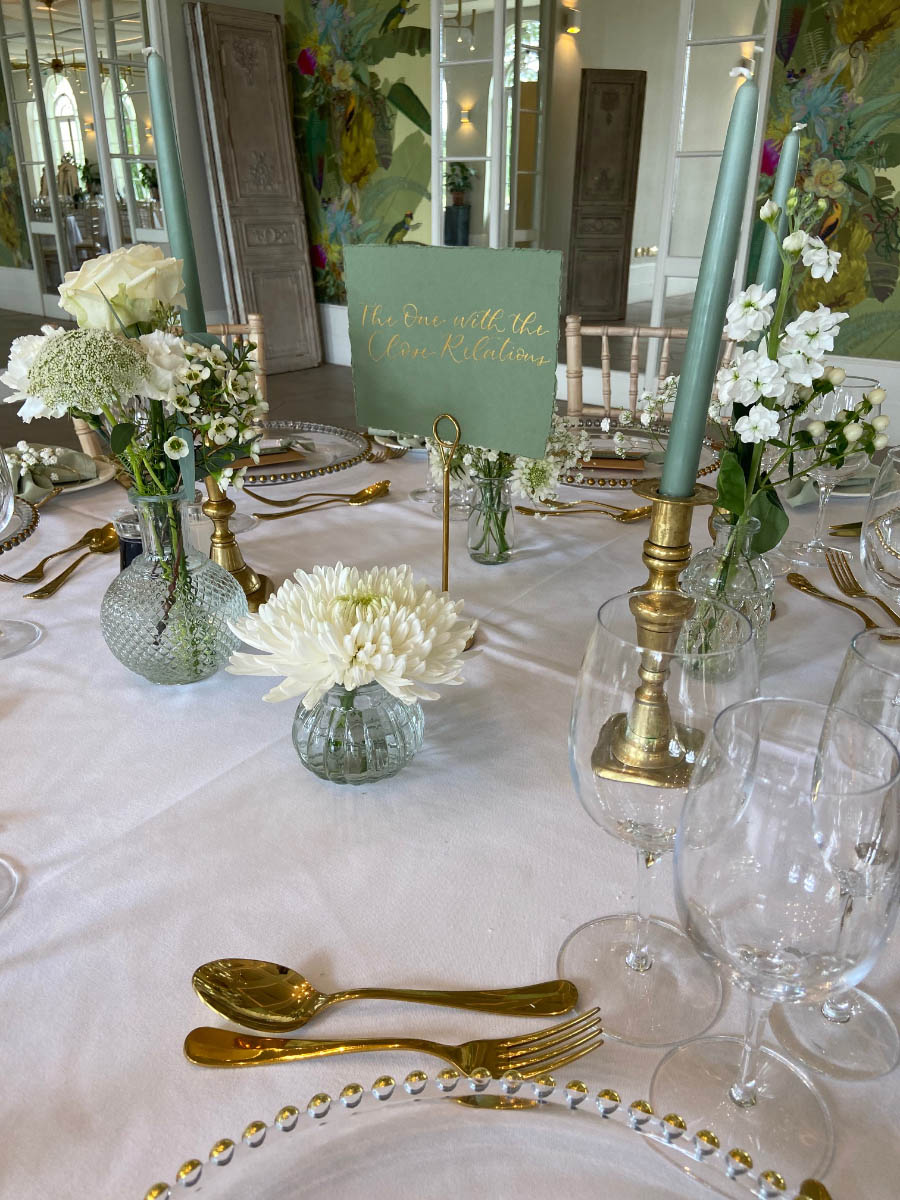 When I was asked to design the flowers for a summer wedding here I was absolutely thrilled! The brief was to create simple, elegant arrangements that would add interest and complement the beautiful venue with a colour palette of white, green and gold. 
I'm not going to lie… the element of gold did slightly scare me! I was worried if I used too much it could look Christmassy, and if I didn't use enough it could look like a mistake! So balance was key here!
The gold element for the wedding centre pieces appeared in the form of candlesticks so I decided to opt for simple glass bud vases of varying heights with pretty blooms such as roses, lisianthas, wax flower, astrantia, scabiosa, ammi etc. 
The top table design was full of flower and foliage and acted as good focal display along with some bud vases either side to tie in with the guest tables.

Bridal bouquets are such a focal part of your wedding flowers as they are probably photographed the most and I think it's essential that the bride absolutely loves her bouquet.   It is always slightly nerve wracking when you show the bride what you have created.  Each wedding bouquet is made with love and care and you always hope that she loves it as much as you do!  I have been known to make bouquets several times if I'm not happy with them.  As flowers and foliage are natural items they do come in different sizes, shapes and forms and sometimes they just don't want to sit where you want them to!  I always think each bouquet has a personality of its own.  I know that sounds crazy but I think it's true!  I was very careful with the placement of the gold elements in these bouquets so that it formed a perfectly balanced colour combination.  It was also important to incorporate the right shade of gold.  A vintage (slightly bronze) shade was used to tie in with the candlesticks and beautiful cake.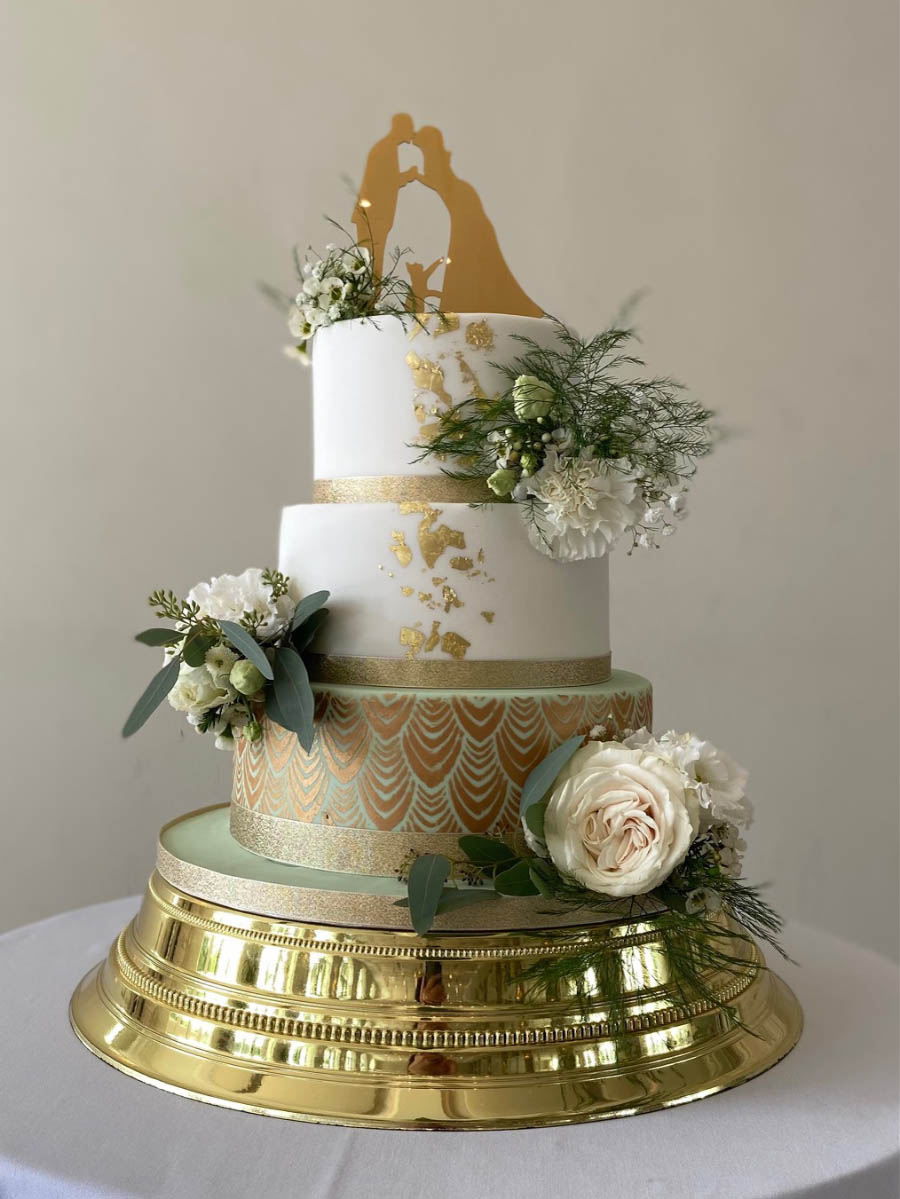 The wedding cake was a 3 tiered, green and white cake with a gold leaf intricate pattern and a gold topper.  I made 3 flower corsages to sit at the base of each tier and a few flowers sat beneath the cake topper. The wedding cake was a work of art!

I really do believe that flowers are such an important part of your wedding day and there are never two weddings that are the same.  I like to relocate the flowers after the ceremony if possible so they can be enjoyed throughout the whole day.  Floor standing aisle arrangements are perfect for this as they can easily be moved after the ceremony.  Ten lush arrangements were made that were full of flower and foliage.  They were made as tall arrangements so they would give impact from a distance and they looked really pretty slightly swaying in the light wind.   After the ceremony some were placed beneath the middle of the top table, two were placed either side of the seating plan and the others were dotted around the bar area and by the cake table.  They tied in beautifully with all the other designs and created an abundant display of flowers.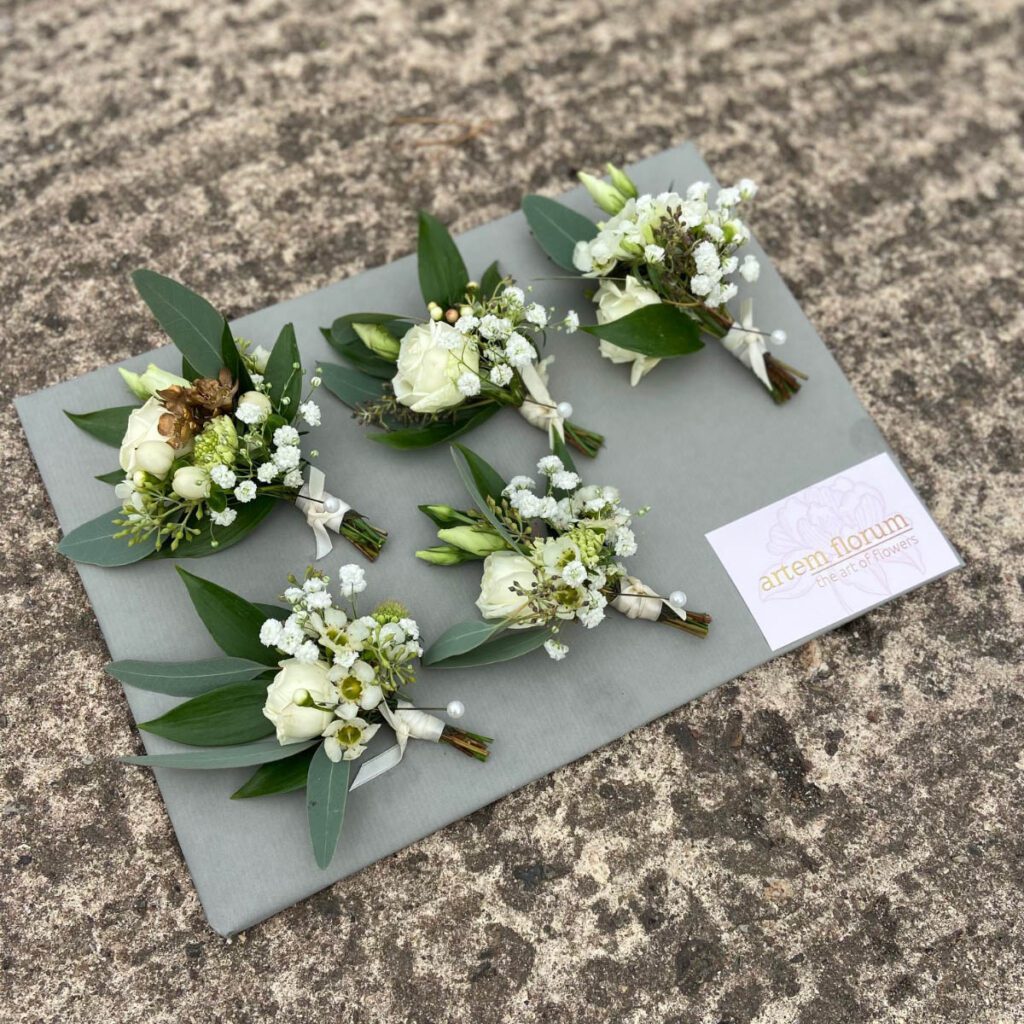 The bride and groom chose the incredibly talented Tara Statton to photograph this beautiful wedding. It's always a pleasure to work with Tara, who brings her unique creativity to every event, and effortlessly makes her subjects shine out from every photo. Tara's galleries from this wedding are shared here, with her kind permission.