CRAFTING LOVE: A VIBRANT SAME-SEX WEDDING AT TREVENNA, CORNWALL

When the happy couple approached me to design the floral arrangements for their same-sex wedding at the stunning Trevenna venue in Cornwall, I was both thrilled and honoured. As a wedding florist, bringing couples' dreams to life through my floral creations is a privilege I hold dear. What made this collaboration particularly exciting was their openness to creativity and my passion for using locally sourced British flowers. Let me take you on a journey through the colourful and heartfelt journey of creating their dream wedding.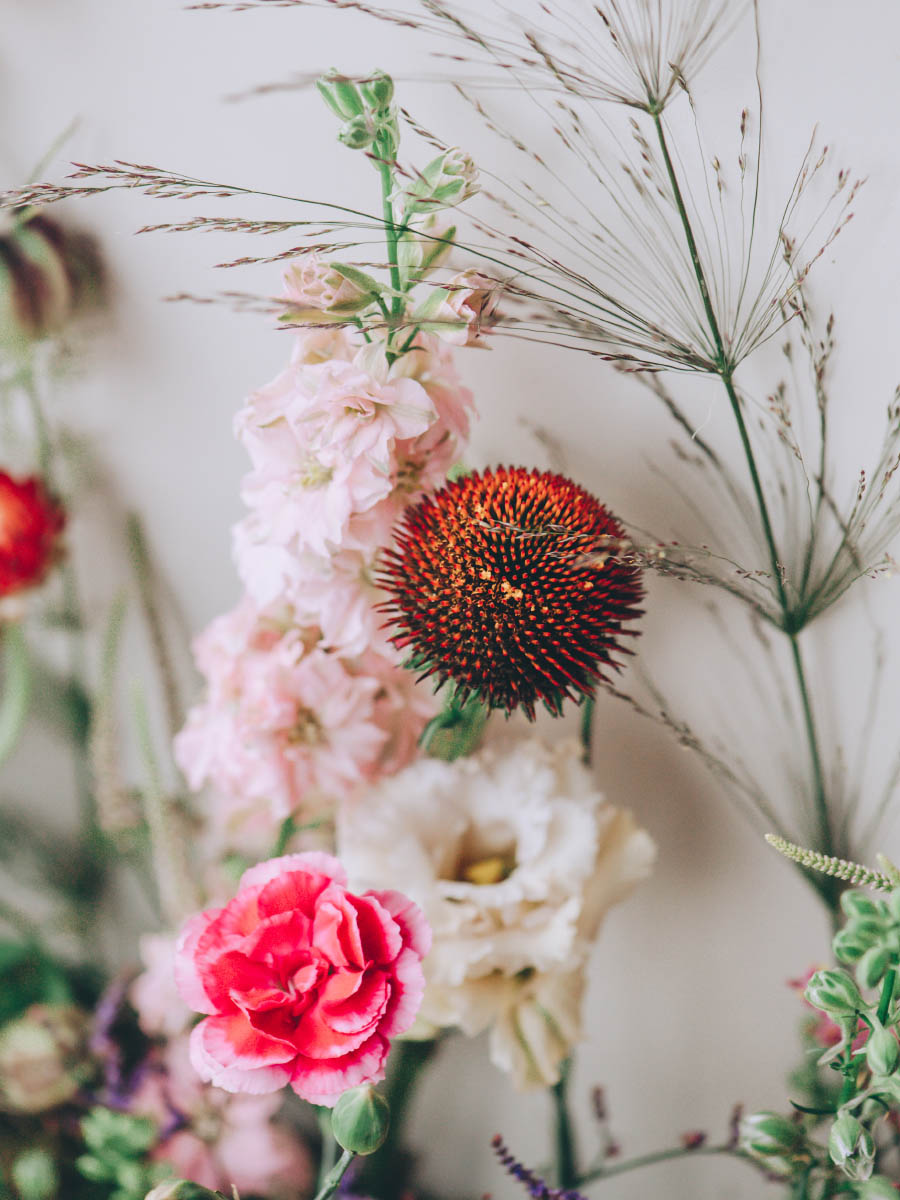 From Ideas to Blooms: A Vision Takes Root
The grooms gave me the wonderful opportunity to shape their wedding flowers based on colour and texture preferences. As we discussed their desires, I gently inquired about the significance of locally sourced flowers to them. Their eyes lit up with enthusiasm, and I knew instantly that we were embarking on a floral adventure that would capture the essence of their love story. Armed with their enthusiasm and trust, I set out to design arrangements that would be a true reflection of their personalities.

Nurturing Nature: Embracing Local Beauty
The concept of locally sourced flowers resonates deeply with my floral philosophy. Connecting the essence of the celebration to the natural surroundings brings a unique and authentic touch to the wedding. As I started sketching and brainstorming, I knew that using locally sourced blooms would infuse the arrangements with the beauty of Cornwall's landscapes. This commitment allowed us to celebrate not only their union but also the breath-taking environment that surrounded them on their special day.

The Dance of Colour and Balance
Designing with a vibrant colour palette can be both thrilling and challenging. To create a sense of balance, continuity, and harmony, I meticulously selected flowers that not only reflected the chosen hues but also encapsulated the emotions of the day. Each bloom was chosen with a purpose, contributing to the overall visual and emotional tapestry of the wedding.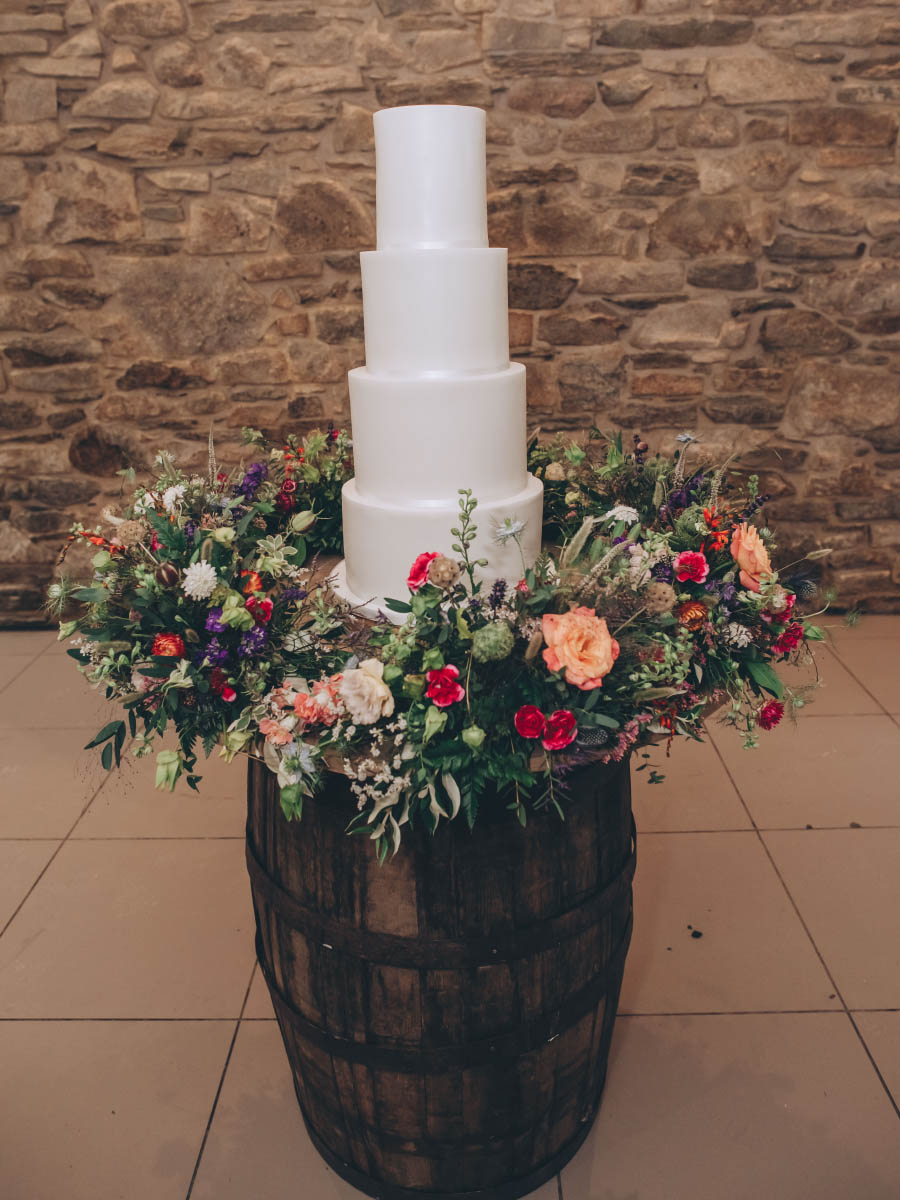 Transforming Visions into Reality
One day, as I was walking my dog, inspiration struck when I stumbled upon a weathered piece of tree bark in our local park. Instantly, I knew that this unique find would be the perfect centrepiece for a floor-standing arrangement adorned with flowers and lush moss. This piece encapsulated the essence of their wedding – organic, genuine, and beautifully unique.
One of the couple had shared a concept with me – flowers surrounding the base of the wedding cake. This idea resonated deeply with me, and I incorporated it seamlessly into the floral design. It added a touch of charm and continuity, connecting different aspects of their celebration.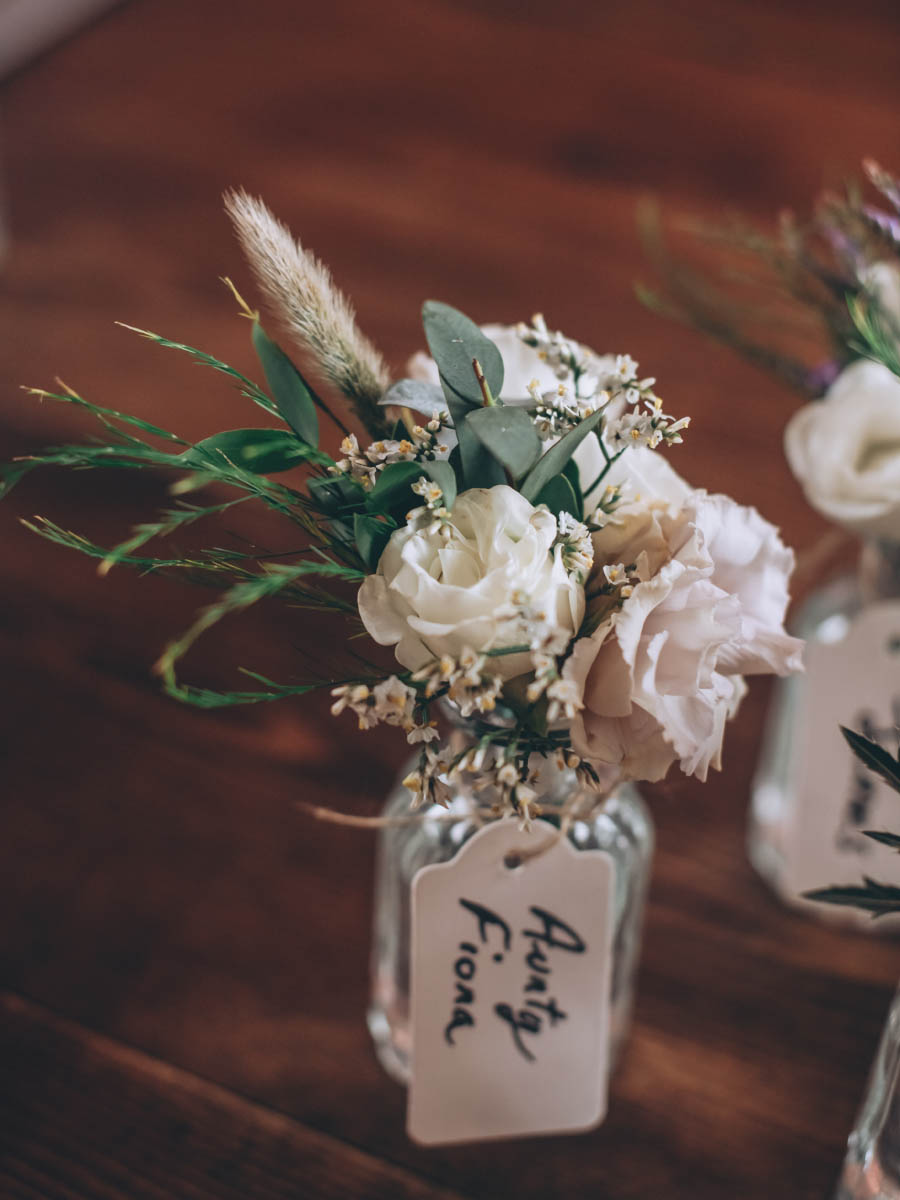 The Heart of It All: A Love-Infused Design
In the end, every element of the floral design was carefully considered. I followed a guiding principle – "Does this flower add to the design?" If the answer was yes, it earned its place; if not, I let it find its home elsewhere. This philosophy ensured that each bloom, each stem, contributed to the greater story we were telling through our designs.
From meticulously crafting the pocket meadows to orchestrating a captivating floral installation, every moment of this journey was a challenge that I embraced wholeheartedly. It was a joy to see the colours, textures, and emotions harmoniously weave together, creating a visual symphony that celebrated the union of two souls.

Celebrating Love, Diversity, and Togetherness
As the wedding day arrived, it was an emotional moment to see the smiles on the grooms' faces as they first saw the colourful and heartfelt floral arrangements that adorned their celebration. Their love story, their commitment to each other, and their courage to be true to themselves were celebrated through every petal, stem, and bloom.
This wedding wasn't just about designing flowers; it was about celebrating love, diversity, and togetherness. As I reflect on this incredible journey, I'm reminded once again of the power of floral artistry to capture the essence of a couple's journey and translate it into a tangible expression of their love.
To the wonderful couple, may your love continue to bloom as beautifully as the flowers that adorned your wedding day. Cheers to a life filled with colour, harmony, and unending love.

Credits
Photos courtesy of Laura Buffery Photography
Local flower supplier: River Garden Flowers
Marina Law's Assistant: Kasha Minette
Note: This wedding was a celebration of love that transcends gender and orientation, contributing to the ongoing movement for LGBTQ+ inclusivity and acceptance in all aspects of life.