ARTEM FLORUM FEATURED IN WED MAGAZINE

I'm so excited to share that Artem Florum was featured in Wed Magazine, the latest issue (64)! The photoshoot took place at Trevenna, a beautiful wedding venue nestled in the Cornish countryside. I was delighted to be approached by Emma, an award winning hair stylist who specialises in wedding hair. She was looking for a florist who could create colourful, stunning and elegant displays for their photoshoot, and I was thrilled to be chosen.  I have to be honest, this was a bit of a challenge for me, as it took me slightly out of my comfort zone… but I do believe a challenge is a good thing and I really enjoyed the process. The ratio of colours I used was paramount, and could make or break the design.
I chose pink as the dominant colour followed by orange and then purple. The displays were full of texture and each flower was carefully selected for its form and shape providing the overall aesthetic.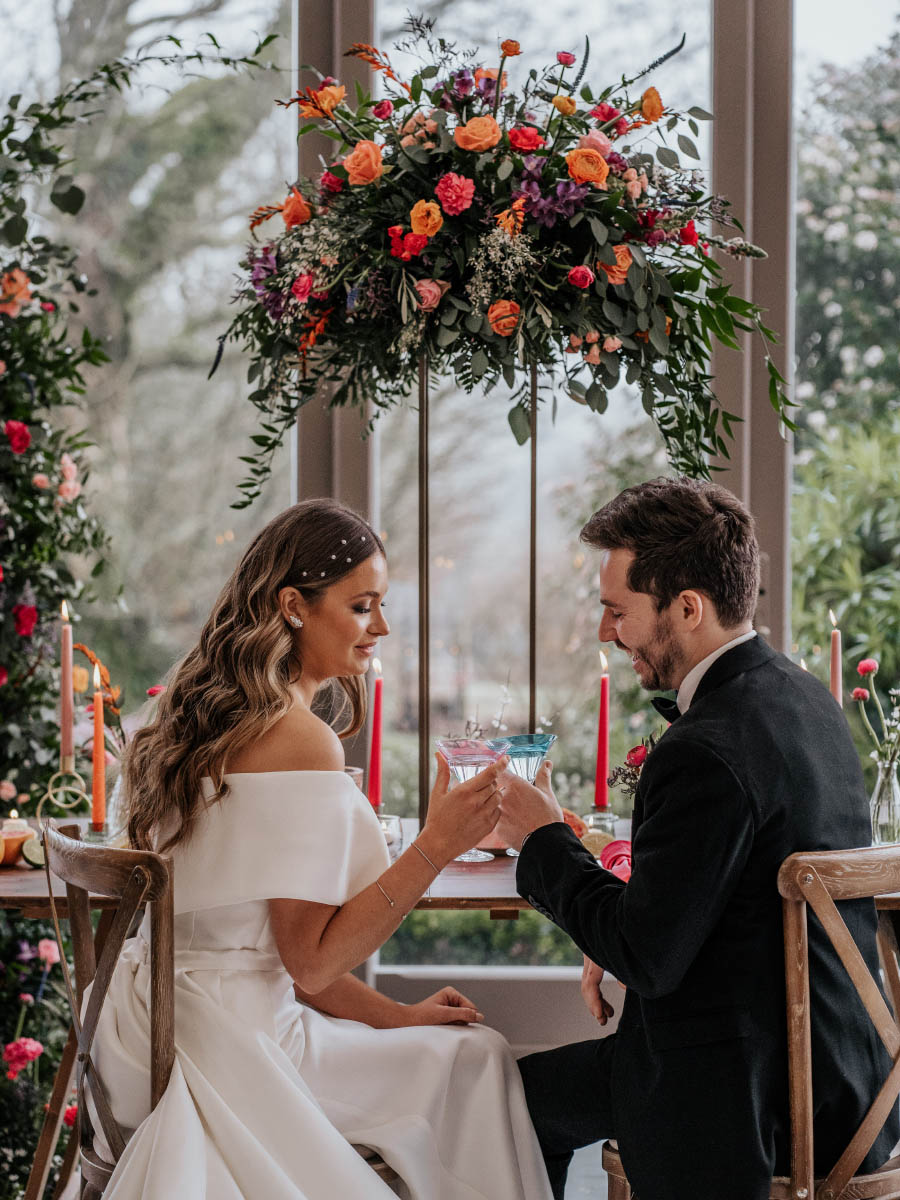 I wanted to create floral designs that would complement the beautiful setting of Trevenna and also provide that 'wow' factor. I used a variety of fresh flowers, including roses, ranunculus, veronica, crocosmia, and carnations to create truly breathtaking displays.
I decided to opt for floral pillars to create the ceremony backdrop. I'm a great believer in repurposing your wedding flowers, so these are the perfect example where they can then be placed behind the top table to be enjoyed and admired throughout the day.  I also wanted to design a top table centrepiece that would add impact and draw the eye to the abundance of lush foliage and colourful blooms.
I was very excited when I heard that Wed Magazine loved the shoot and wanted to feature it in their next Cornwall edition, and I was happy to use this opportunity to promote Artem Florum as a preferred wedding floral design service for weddings in Devon and Cornwall.

Artem Florum is a wedding floral design studio based in Devon, England I have a passion for creating beautiful and elegant floral displays. I use only the freshest flowers, and I take the time to get to know each of my clients so that I can create a floral designs that are truly unique to them.
I am committed to providing my clients with the highest quality of service and the most beautiful floral designs possible.
If you are planning a wedding in Devon or Cornwall, I would be honored to help you create a floral design that is as beautiful and elegant as your special day. Please contact me today to learn more about my services.