'ADAM IN WONDERLAND'! SPECIAL EVENT FLORAL DESIGN

I was so excited when I was approached by Adam to create the Special Event Floral Design for his 30th Birthday party at The Duke of Cornwall Hotel in Plymouth, Devon. I was even more excited when he told me it was going to be an 'Alice in Wonderland' theme! This was a very different project that allowed me to have a free rein and be as creative as I wanted to be. I was given a lot of notice so I did have months to plan for it. It really did feel like a creative journey as my ideas developed along the way. I had so may restless nights thinking 'I wonder if this would work?' and 'How on earth am I going to do that?'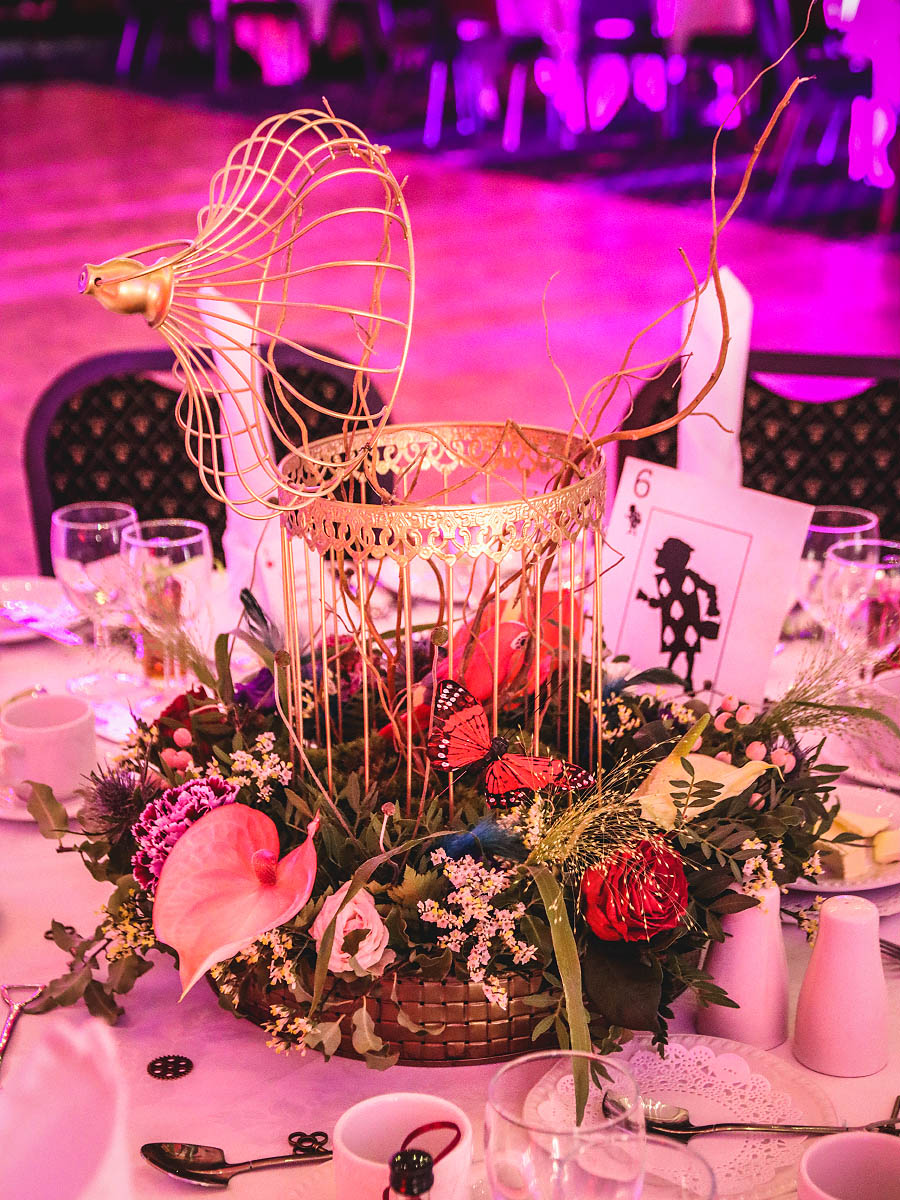 I had so many ideas and I guess in the end it was about working through them all and deciding which work best, be cohesive and which were logistically possible! It allowed me to have fun and create playful designs.
The choice of flowers was key too as they were picked to give impact with their vibrant colours, textural qualities and unusual shapes. The addition of moss in some of the designs added to the woodland feel and brought it all together. 
I think flowers are so beautiful and I try to make a connection between the flowers that I choose and the person that it is for.  On this occasion, when I was looking for a pink rose one came up called 'Adele'. It was as if it was meant to be – Adele is Adam's favourite female artist so 'Adele' appeared in many of the designs!

I wanted to create a visual impact at the entrance of the function room so that people could get a taste of what was to come when they went through the doors.  Of course a tree seemed the perfect statement piece!  Well I say tree – it was actually a very long curved branch with lots of smaller branches coming off it.  Once I had managed to work out a way to stabilise it so it didn't topple over I had to figure out a way to get it in situ as it was quite large!  Luckily the branches were quite young so they could bend without snapping.  There was a massive 'sigh of relief' when it was installed though. I wanted it to look like it had always been there so we created floral and foliage designs to sit at the base so it looked like everything had been growing around it for ages.  I was pleased with how it turned out and it was finished off with feathers nestled in between the flowers and birds and butterflies perched on the branches.  Quirky signs were also placed on the tree such as 'Mad Hatter's Tea party this way' and 'Wrong way'.  I think it's all in the detail and such small things can really pull the look together and make it that extra special. 
While I concentrated on the special event floral design, Adam included so many details that fitted the theme and people adored.  For example, there were little liqueur bottles for each person that had a label 'Drink Me', cogs and keys on the table, the seating plan had been cleverly thought out and each table had a different name, such as 'The March Hare', 'The Gardeners, etc.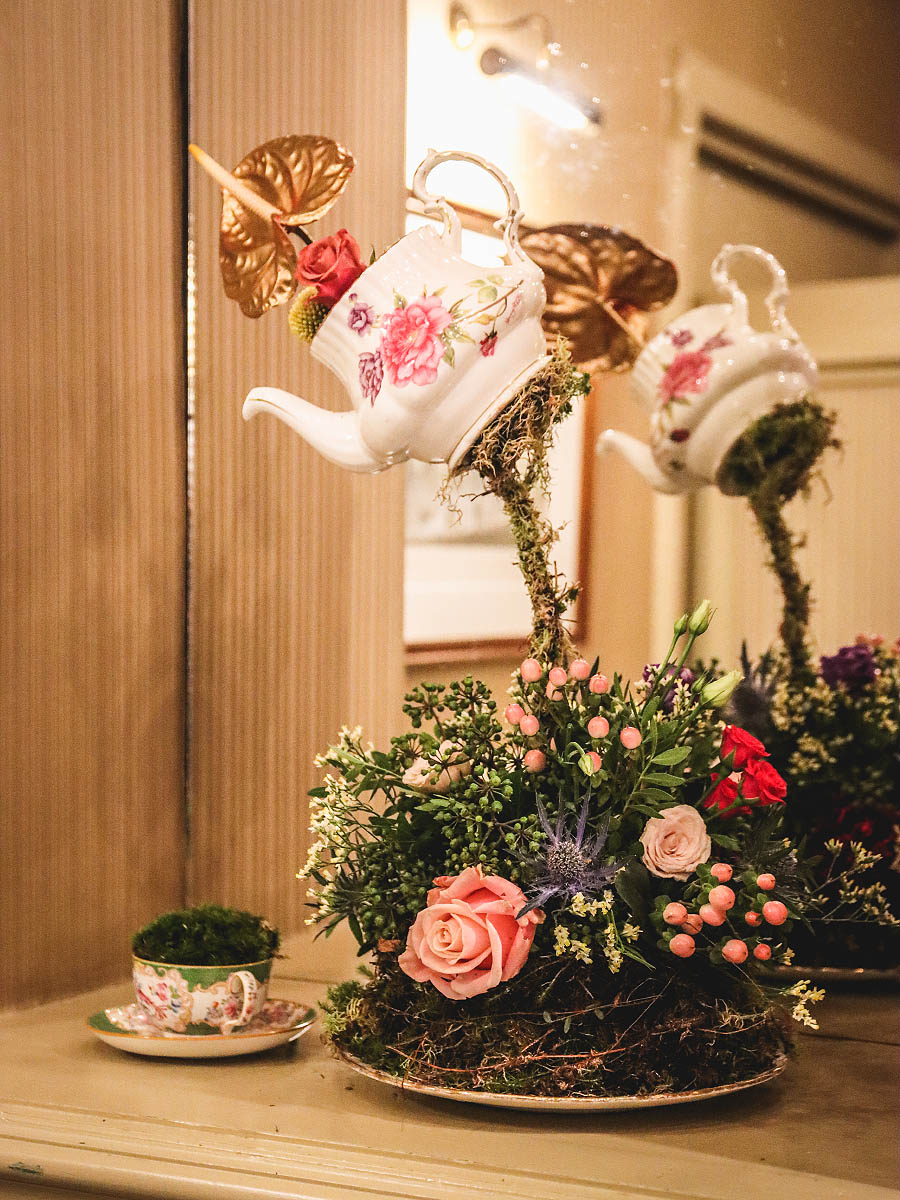 There were 10 tables and I really did want them all to be different.  I wanted to create interesting designs that would add impact. Lots of the designs included teapots and teacups.  I had a vision of a suspended pouring teapot, but I wasn't quite sure how I was going to achieve it.  Actually, it wasn't too difficult and once I had worked out the mechanics of that design everything else just seemed to fall into place.

I think one of my favourite table designs was the 'stack of wobbly teacups'.  This took a lot of patience to get right but I think it was effective.  I also really liked the oversize golden birdcage that was located by the bar area brimming with flowers and twisted willow and it even had a little pink bird perched inside! The golden flamingos were a favourite with some people with their floral collars and moss beneath them. 

Another huge element of the party was the birthday cake.  Oh my word how amazing was this!  The attention to detail was incredible and I still wonder how the cake actually managed to stand like that!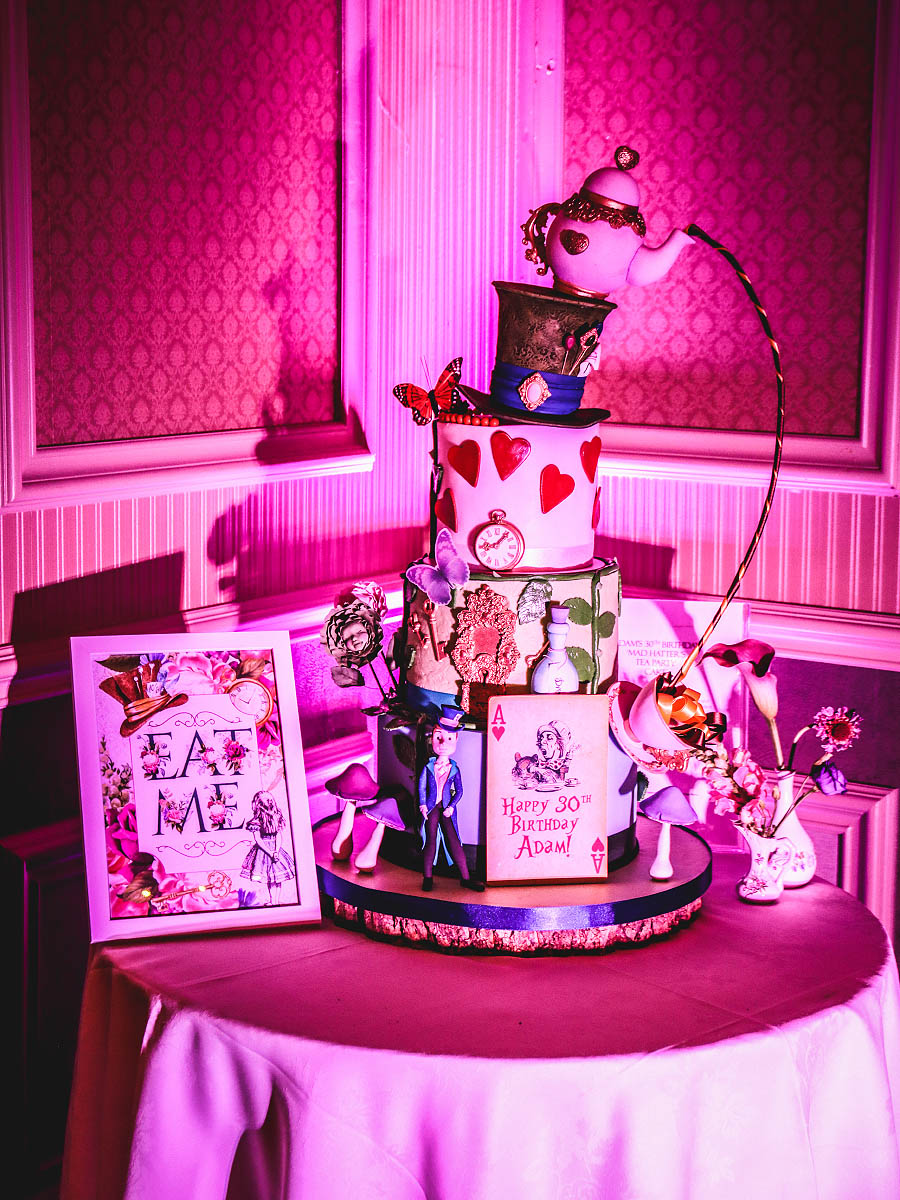 I would like to say a huge 'thank you' to Adam who let me just get on with the special event floral design, and put all his trust in me.  It was an amazing opportunity and I loved every second.  Can't wait till the next one!
I would also like to thank:
Kasha for her help putting my idea into practice;
Lauren Spinks for her amazing photography;
Luke Adams for his fabulous lighting;
Amigos Coffee for the sensational cake.